Anthurium hammelii Croat, sp. nov.

TYPE: Panama. Bocas del Toro: ca. 5 km ENE ofCerro Pata de Macho near Finca Serrano, NE of Boquete, Hammel 6160 (MO 2802252, ho-lotype).
Planta epiphytica; cataphyllum subpersistens in fibris; petiolus 33-34 cm longus; lamina oblonga ad oblongo-elliptica, basi obtusa, 30-31 cm longa, 5.5-7 cm lata; inflorescentia foliis breviora; pedunculus usque 28 cm longus; spatha modice coriacea, purpurea, plus minusve rotundata, ca. 8.5 cm longa, 7 cm lata; spadix stipite 1.5 cm longo, cremeus, ca. 2.1 cm longus; baccae ignotae.

Epiphyte; stems ca. 1 cm diam.; internodes short; cataphylls weathering to subpersistent fibers.

LEAVES with petioles 33-34 cm long, ca. 4 mm diam.; geniculum ca. 1 cm long; blades oblong to oblong-elliptic, acuminate at apex (the acumen flat, minutely apiculate), obtuse at base, 30-31 cm long, 5.5-7 cm wide, broadest at middle; upper surface semiglossy, epunctate; midrib raised above and below (dry); primary lateral veins 9-11 per side, departing midrib at 60° angle, arcuate to the collective vein, raised above and below (dry); lesser veins prominulous above and below (dry); collective vein arising from lowermost primary lateral vein, 3-5 mm from margin, raised above and below (dry).

INFLORESCENCE shorter than leaves, peduncle to 28 cm long, ca. 3 mm diam.; equalling petioles; spathe moderately thick, violet purple, nearly round, ca. 8.5 cm long, 7 cm wide, broadest at middle, round and minutely apiculate at apex, cordate at base; stipe 15 mm long; spadix cream, ca. 2.1 cm long, ca. 8 mm diam. midway, cylindroid, rounded at apex; flowers rhombic, 1.5-2.4 mm long, 2-2.5 mm wide, 5-7 flowers visible in the principal spiral; tepals semiglossy, the lateral tepals 1-1.5 mm wide, the inner margins rounded; pistils not emergent; stigmas ellipsoid, drying raised; stamens exserted above the tepals, soon retracted to the level of the tepals; anthers held in a tight cluster around pistil, ca. 0.6 mm in both directions; thecae ovoid, scarcely divaricate.

INFRUCTESCENCE not known. Fig. 86.

Anthurium hammelii is known only from the type collection made in Bocas del Toro Province, northeast of Boquete at 1,830 m in lower montane rain forest. The sectional placement of the species is uncertain and awaits study of living material. Its inflorescence most closely resembles that of section Calomystrium, but its elongate leaves are unlike any others in the section. It is confused with no other species in the genus.

The species is readily distinguished by its oblong to oblong-elliptic, long petiolate blades, its rounded, cordate, violet purple spathe, and by its stipitate, short, cylindroid spadix. The species is named in honor of Barry Hammel, who collected the only known specimen of this species.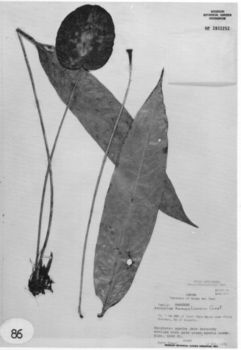 Bocas del Toro: ene of Cerro Pata de Macho near Finca Serrano, Hammel 6160 (MO).