Anthurium gracililaminum Croat, sp. nov.
TYPE: Panama. Chiriquí: Fortuna Dam site, top of mountain S of camp, 8°41 'N, 82°21 'W, 1,700 m, Folsom et al. 5430 (MO 2623576, holotype).
Planta epiphytica; calaphyllum findens in fibris tenu-ibus; petiolus subteres, camplanatus ad leviter sulcatus; lamina modice coriacea, oblongo-lanceolata, basi acu-ta, 16-26 cm longa, 3.5-5 cm lata, pagina superiore interdum inconspicue glanduloso-punctata, pagina in-feriore conspicue glanduloso-punctata; inflorcscentia erecta; pedunculus 13-31 cm longus; spatha mem-branacea, e viridis alba, oblongo-lanceolata, ca. 2.5 cm longa, 5 mm lata; spadix viridis, 2.5-3 cm longus; bac-cae, subglobosae, erubescens albae, 3-4 mm longae.
Epiphyte; stems short; leaf scars hidden by cataphylls; roots few, slender; cataphylls ca. 3 cm long, drying reddish brown, splitting into slender fragments with a few slender fibers exposed.
LEAVES with petioles 12-25(-36) cm long, 2-3 mm diam., subterete, flattened to weakly sulcate; geniculum ca. 1 cm long; blades moderately thick, oblong-lanceolate, gradually acuminate at apex (the acumen flat), acute at base, 16-26 cm long, 3.5-5(-6.7) cm wide, broadest in lower third of blade; upper surface semiglossy, eglandular or inconspicuously and sparsely glandular-punctate; lower surface slightly paler, dark glandular-punctate; midrib raised above, diminished and flat at apex, raised below; primary lateral veins 6-8(-10) per side, departing midrib at 50-60° angle, slightly curved to the collective vein, weakly sunken above, weakly raised below, weakly loop-connected; interpri-mary veins drying more or less as prominent as the primary lateral veins on both surfaces; collective vein arising from the base, 2-4 mm from the margin, weakly sunken above, weakly raised below.
INFLORESCENCE usually erect, shorter than leaves; peduncle 13-31 cm long, 1-2 mm diam., equalling or to 2 times longer than petioles; spathe thin, greenish white, oblong-lanceolate, 2.2÷4.5 cm long, 5 mm wide, broadest somewhat above the base, acuminate at apex, inserted at 60° angle on peduncle; spadix green, 2.5-3 cm long, 2.5-3 mm diam. near base, slightly tapered to apex; flowers square to 4-lobed, 4.5-5 mm in both directions, the sides jaggedly sigmoid, 3-4 flowers visible in the principal spiral, 5-6 flowers visible in the alternate spiral; tepals semiglossy, drying with conspicuous granular raphide cells; lateral tepals 1.8-2 mm wide, the inner margin broadly rounded; pistils not emergent; stigmas prominently raised, elliptic, 0.5 mm long, 0.3 mm wide; stamens apparently retracting after anthesis.
INFRUCTESCENCE erect, spadix reddish, ca. 6 cm long, ca. 1 cm diam.;berries subglobose, white to pinkish white, rounded at apex, 3-4 mm long; seeds 2, broadly ellipsoid, brown, 2.1-2.7 mm long, 1.5-1.8 mm wide, 1.1-1.2 mm thick. Fig. 76.
Anthurium gracililaminum is endemic to Panama and all specimens included here were collected on the Fortuna Dam Road at 1,200 to 1,700 m in premontane rain forest. The species is a member of section Porphyrochitonium and is distinguished by its oblong-lanccolatc leaf blades that are glandular-punctate below and eglandular or sometimes inconspicuously, sparsely glandular-punctate above, its petioles half to almost as long as the blades, and especially by its short, stubby, green spadix that turns reddish in fruit and produces pinkish white berries.
A number of sterile collections (vouchers for living collections) that have dried yellowish green rather than brown are probably also this species (Croat 48788, 48790, 48791, 49929, 50026). Another collection (Folsom 8176) also has leaves drying greenish rather than brown.
The species may be confused with Anthurium dichrophyllum from Vcraguas. See that species for differences.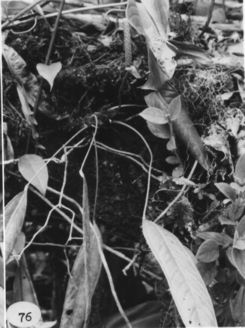 Panama Chiriquí: Río Chiriquí, 1400 m,, 28 Nov. 1979, Thomas B. Croat 48790 (B, CM, MEXU, MO, WU).
Chiriquí: Fortuna Dam site, Croat 48788, 48790, 48791 (MO), Folsom el al. 5428, 5430, 8176 (MO);
road between Gualaca & Fortuna Dam site, Croat 49074, 49929, 50076 (MO),