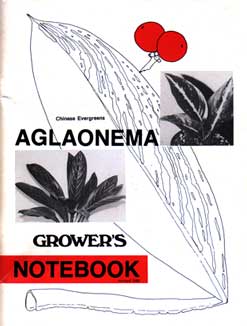 Aglaonema Growers' Notebook by Roy N. Jervis (revised edition, 1980)

This fascinating book, which has been out of print for over 20 years, is considered by many to be a classic reference on Aglaonema by the late Dr. Roy Jervis. He wrote this in the Epilogue of the 1980 edition:
"This personal notebook on Aglaonemas has been a fun project and is being shared in the hope that it will help other Aglaonema growers to identify their plants. Maybe it will encourage others to increase their collections when they see the choices now available. Maybe, too, it will encourage growers to try new cultivars augmenting the 10 or 12 plants that are so common..."
Dr. B. Frank Brown, esteemed author of The Amazing Aglaonema writes this of Dr. Jervis and his book:
"Roy N. Jervis was the most impressive individual I ever met. In the mid-seventies we visited each other back and forth. His interest was in the newly found Aglaonema which I had collected in the wilds of South East Asia. My interest was the absolute "awe" over his botanical knowledge of the genus Aglaonema. His intellect coupled with his scholarship resulted in one of the most outstanding aroid publicaions in the 20th Century. Dr. Jervis' publication as a study of a single genus is without peer in the world of botany."
This Adobe Portable Document File edition is being made available to IAS Members as a benefit of membership.
IAS Members can access the PDF files here.
This page was created by Scott Hyndman for the I.A.S. on May 31, 2002. Copyright © 1996 to 2002 by the International Aroid Society.