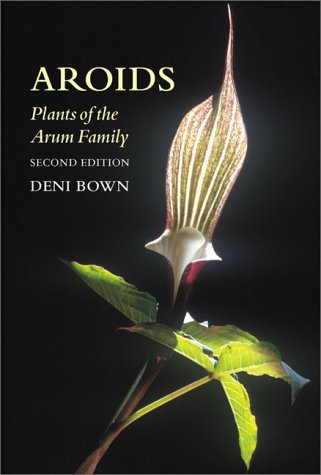 Aroids: Plants of the Arum Family by Deni Bown

Originally published in 1988 as the first truly comprehensive review of one of the largest and most popular plant families, Aroids: Plants of the Arum Family was enthusiastically welcomed by botanists and horticulturists alike for its attention to scientific detail and delightful writing style. Now in this completely updated second edition, we learn of discoveries made in the last decade as the family has grown from about 2500 species to nearer 3200. The latest taxonomic and nomenclature revisions are noted in the checklist of genera, and all the original drawings are included plus twice as many color photos. A new guide to the cultivation of ornamental aroids completes this well-rounded introduction to a remarkable family.

From the Publisher:
In this compelling natural history, Deni Bown emphasizes the habitats and ecology of aroids, their anatomy and reproduction, their medicinal and folk uses, and their potential as food crops. All the aroids have devised cunning schemes to attract pollinators and survive adverse conditions, from the extraordinary mouse plant, which emits a mushroom-like smell and mimics the underside of a fungus to lure fungus gnats, to the "ordinary" jack-in-the-pulpit, which changes sex from year to year depending on environmental conditions. Other bizarre features of the aroid lifecycle are described in depth as the author covers representative species in the aroid genera.

About the Author:
Deni Bown is a freelance writer, photographer, and consultant based in Norfolk, England. She specializes in botany, gardening, herbs and natural history; her work covers many different aspects of the plant world. Her first book, Aroids, was originally published in 1988 and was followed by two others: Alba: The Book of White Flowers and Fine Herbs. She won the Garden Writer's Association of America award in 1989, and was a prize winner in the BBC Wildlife Photographer of the Year competition in 1986. Her work also appears in various publications, including Aroideana, the journal of the International Aroid Society.

0-88192-485-7, 468 pp, 108 color photos, 50 line drawings, 6 x 9", hardcover, © 2000
This book is no longer available from the IAS. Sorry for the inconvenience.