How to Shed Some Light on the Subject.
This page shows differences among photos taken under various lighting conditions. Most have been post-processed to correct the exposure and color balance. All are shown as 50% quality JPEG, after 33% reduction of the original image.

The photo taken under halogen lighting illustrates a poor man's photo studio techniques. It illustrates the point that you cannot really do much worse than shown here, unless you really try. See the description of my 'studio' at the bottom of this page, but first sit on a firm surface. I cannot be held responsible if you start laughing so hard that you'll fall down and damage yourself in the process :-)

Also, I need to add some more lighting conditions (diffused sunlight, overhead sunlight, etc.). Eventually, after I have finished building my greenhouse, I'll come back to this topic.

Note: to view this page, you really need a monitor capable of displaying thousands of colors, and a 24-bit color setting is is highly recommended.

My conclusion: take your photos on a sunny day. Or get a real studio setup.
| | |
| --- | --- |
| Indoor flash, after moderate post-processing for the insufficient exposure. | The same photo, taken with indoor flash, before any corrections. |
| Indoor, indoor halogen lighting, really lousy setup, after moderate post processing for underexposure. | The same photo, taken with indoor halogen lighting, before any corrections. |
| Outdoors, cloudy morning. No post processing. | Outdoors, sunny morning. No post processing. |
Now hold on and don't laugh too hard. Below is my indoors 'studio', equipped with one 50W halogen at close distance to the subject :-)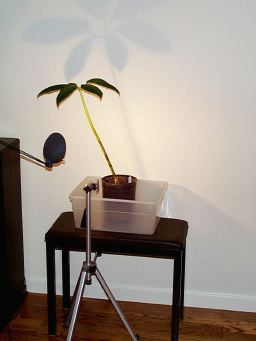 Copyright © 1997 Krzysztof Kozminski