IAS on Facebook
IAS on Instagram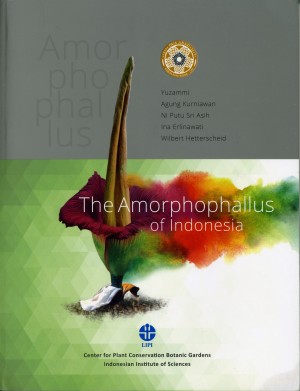 The Amorphophallus of Indonesia
by Yuzammi, Agung Kurniawan, Ni Putu Sri Asih, Ina Erlinawati and Wilbert Hetterscheid
This new book, published in 2017, is distributed from the USA by the International Aroid Society. Completely illustrated in color, the 176 page book is available in soft cover only and is the first comprehensive reference source for the Amorphophallus in Indonesia.
In addition to a complete description of the genus in Indonesia, the work contains sections on collection, cultivation and propagation with each species lavishly illustrated in color photographs and detailed distribution maps.
No Amorphophallus grower's library is complete without this work, and only a very limited number have been imported for sale. Previous Aroid books have sold out in short order, and this will be no exception.
The book will be offered at the special price of $33.95 plus shipping to IAS members only. The non-member price will be $6 more per volume. Not a member? Perhaps you would like to join the society and take advantage of e-journal Aroideana, quarterly newsletters, online resources and many other benefits such as this one. Membership starts at $25/year.


SOFTCOVER


ORDER Now through Paypal for ONLY
$33.95 (members)
$39.95 (non-members)
plus shipping calculated at checkout.
Shipping is Priority Mail within the USA, and International First Class otherwise.
Books like this sell out fast, and are often only available later at quite inflated prices. We apologize in advance if the book is sold out on paypal and not yet noted here. This is an excellent price for a high quality scientific work by authors of this calibre - as the book is not being distributed internationally by the publisher, the cost reflects our expenditure shipping it in bulk from Indonesia. There is no guarantee how long this book will remain available after our initial shipment, and no guarantee that it will ever be available in reprint.
ISBN : 978-979-8539-68-8
Published by Center for Plant Conservation - Botanic Gardens, Indonesian Institute of Sciences (LIPI)
http://www.krbogor.lipi.go.id