IAS on Facebook
38th Annual
International Aroid Society Show and Sale
Held At Fairchild Tropical Botanic Garden
Miami, Florida, USA
The 2015 Show and Sale will be September 19th and 20th, 2015
Schedule for Saturday September 19th, 2015:
9:30AM - Show opens at
Fairchild Tropical Botanic Garden
in the Garden House ( admission required )
1:00PM -
Rare Plant Auction
( Corbin Building )
2:00PM - Afternoon Talks ( Corbin Building )
- Bruce McAlpin on Meconostigma Pollination Techniques
- Joep Moonen "A Plant Collection in French Amazonia with an emphasis on Aroids"
- Reggie Whitehead on Cultivation of Aroids in South Florida

4:30PM - Show closes
6:30PM - Annual
Banquet
, Featured Speaker and
Auction
( ticketed event )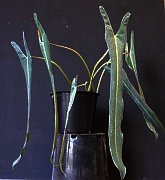 Philodendron spiritus-sancti
The Kampong has dorm beds at $40 with free WiFi. Interested parties should contact Barbara Oppe at 305-442-7169 ( boppe@ntbg.org ) to arrange for payment and check-in. Reservations are first come, first served; they can accommodate up to 12 people.
The Saturday Banquet is still $25 - reserve your spots before Monday 9/14/2015.


We are lucky to have the famed Brazilian Botanist Harri Lorenzi flying in to be the featured speaker at the banquet, presenting on "The Aroids in Plantarum Botanical Garden", including Philodendron spiritus-sancti.

Harri is a Brazilian agronomic engineer with a background in horticulture and botany. His career has already spanned over thirty-five years. Harri is from Corupá, a municipality of the state of Santa Catarina which is located in the South Region of Brazil. Among the twenty books that Harri has written include volumes on Brazilian trees, palms and ornamental plants, medicinal plants, systematic botany and even plant morphology, many published in both Portugese and English. He also published a book about exotic native and introduced tropical fruits in Brazil. Book reviews mentioned that there are many photos of rare fruits not found anywhere else. Harri Lorenzi sponsored field trips to collect very rare aroids and also collected and photographed personally many of them. A very rare aroid genus, Lorenzia E.G. Gonç., was erected in his honor.

Harri Lorenzi

Harri is the founder and director of the "Jardim Botânico Plantarum", his private botanical garden of ten hectares in size located near Nova Odessa in the state of São Paulo, Brazil. It is mainly dedicated to the flora of Brazil, with approximately 5,000 living plants and many superb views, plus a herbarium with at least 35,000 dried plant specimens and a separate large whole fruit collection. The Plantarum contains one of the most complete plant taxonomic libraries in the country. More information can be found about Harri's botanical garden at his website: http://www.plantarum.org.br.



The legendary auction will feature ( we checked! ) the famous Philodendron spiritus-sancti. Many additional donations will be available, and we are planning on a slightly different format this year, with daytime auctions in addition to the traditional evening event. If you have a special plant you'd like to donate to the auction, please contact Alex Bello for more information. There will be no internet bidding this year, so get your banquet tickets now.
The menu will feature delicious catered Cuban cuisine from Mary Anderson.



Confirmed vendors this year include:

Ecuagenera - boxes of rare aroids from Ecuador.
Ecuagenera accepts preorders until September 4th through their website.
Ree Gardens
Home Chaovanisch - tons of tubers and some plants from Thailand
Oasis Nursery - selling Aglaonemas, Anthurium and Philodendron

As always, Bill and Denis Rotolante at Silver Krome Gardens will supply a plethora of Aroids for the member tables.

IAS Members can offer plants at the members table - check with Albert Huntington for more details.
(Prospective vendors please contact Enid Offolter for more information.)

The IAS Show and Sale is a weekend event traditionally held annually during the 3rd weekend in September at the Fairchild Tropical Botanic Garden in Miami, Florida, USA. The 2015 show will be the society's 38th.
The show and sale features:
Opportunity to meet and interact with aroid researchers, breeders, growers, hobbyists and personalities from all over the USA.
Vendors both local and international. In past years we have had vendors bringing aroids from places like Thailand and Ecuador. There are often plants available from botanical gardens and private growers that can be found nowhere else.
Guest lectures on Saturday afternoons, speaking on various aroid related subjects including plant exploration, growing uncommon genera, and more.
Opportunity to see huge specimen show plants up close.
The annual IAS banquet which includes a guest speaker. Recent featured speakers have included Dr. Marc Gibernau from France speaking on pollination, Wilbert Hetterscheid from the Netherlands speaking on Amorphophallus, Leland Miyano from Hawaii speaking on Philodendrons, Joep Moonen from French Guyana, and many others.
The annual IAS auction of rare aroids. A partial list of a previous year's offerings is available here. Depending on attendance, there are some wonderful deals to be had.
Opportunities to see various other Aroid related operations in South Florida.
Past vendors have included: Ecuagenera, Ree Gardens, Palm Hammock Orchid Estate and in the members section: Natural Selections, Silver Krome Gardens, Bruce McAlpin, Don Bittel, Home Chaovanisch, Enid Offolter, Barry Schwartz and many more.
The IAS show and Sale is traditionally hosted the 3rd weekend in September at the world famous Fairchild Tropical Botanic Garden, Miami, located at 10901 Old Cutler Road, Coral Gables (Miami), Florida 33156. The Garden is adjacent to Matheson Hammock Park, about 20 minutes by car from downtown Miami and Miami International Airport. You can find more information about Fairchild Tropical Botanic Garden online here. Entrance to The Garden is through the visitor center at the north entrance off Old Cutler Road. Please see the garden website for admission prices.
Friday: The show is set up from 9:30 AM to 6:00 PM. Show entrants bring their select plants for display and for judging before noon. Vendors may setup their booths starting at noon.
Saturday: The Show and vendor sales booths are open from 9:30 AM to 4:30 PM.
On Saturday evening at 6:30 PM we begin the always-fulfilling Society Members Banquet Dinner followed by a short annual business meeting. The feature presentation by a well known Aroid personality is followed by the plant auction featuring many very rare and choice aroids. Dress is smart-casual.
Sunday: The Show and Sale opens again from 9:30AM to 4:30PM. At 10:00AM there is a Board of Directors meeting at Fairchild Garden open to all IAS members.

The Miami Dadeland Hotel has traditionally been the hotel for out of town show attendees, and is located conveniently close to the gardens. Recently acquired by the Starwood Group, their free shuttle doesn't quite make it as far as Fairchild, but you are almost guaranteed to be able to hook up with another Aroider who's rented a car. Competitive rates may be found online.
The Hampton Inn Dadeland (305-269-0072 or 1-800-Hampton) is also well located.

The Tyson Dorm at the Kampong often has a limited number of beds available, and free WiFi. Reservations are first come, first served and they can accommodate up to 12 people.
Please plan to attend the International Aroid Society's Annual Show and Sale. It's a great opportunity not only to pick up some nice plants but to meet people in the aroid community.
If you have any questions about the IAS Show and Sale, please contact Albert Huntington.

2014 Memories
The 2014 show and sale is over, but we have preserved a lot of good memories here.

Albert Huntington has also posted some commented pictures from the 2008 show and sale.