IAS on Facebook
IAS on Instagram
46th Annual
International Aroid Society Show and Sale
Held September 16-17, 2023 At Fairchild Tropical Botanic Garden
Miami, Florida, USA
Sponsored by:

FISH SH!T: the most robust
beneficial bacteria product available.
About
---
The annual show and sale features:
Opportunities to meet and interact with aroid researchers, breeders, growers, hobbyists and personalities from all over the world.
Vendors both local and international. This year we will have vendors from all over the USA, Thailand, Singapore, Ecuador, Japan, and Australia. There are often plants available from botanical gardens and private growers that can be found nowhere else.
Guest lectures on Saturday, speaking on various aroid related subjects including plant exploration, growing uncommon genera, and more.
Opportunities to see huge specimen show plants up close.
The annual IAS Dinner, Drinks, & Auction which includes a guest speaker. Our speaker this year will be Summer Rayne Oakes. Previously featured speakers have included Jay Vannini speaking on Anthuriums, Dr. Marc Gibernau from France speaking on pollination, Wilbert Hetterscheid from the Netherlands speaking on Amorphophallus, Leland Miyano from Hawaii speaking on Philodendrons, Joep Moonen from French Guyana, and many others.
The annual IAS auction of rare aroids.
Opportunities to see various other aroid related operations in South Florida.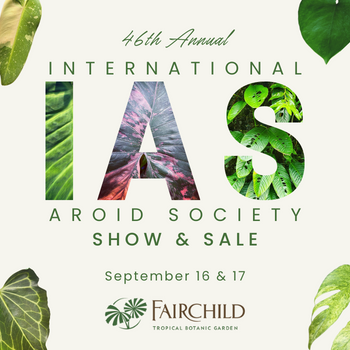 General Info & Tickets
---
Show & Sale
Dates & Times
Saturday, September 16th 10am - 5pm
Sunday, September 17th 10am - 3pm
Location
Fairchild Tropical Botanic Garden 10901 Old Cutler Road
Miami, Florida 33156 *Entrance to the garden is through the visitor center at the north entrance off Old Cutler Road.

Tickets
Tickets for the event can be purchased from Fairchild Tropical Botanic Garden.
Dinner, Drinks & Auction - SOLD OUT
Date & Time
Saturday, September 16th 7pm
Location
Salt Waterfront Restaurant 4600 Rickenbacker Causeway
Miami, FL 33149 *Some maps may show the address as Key Biscaye, FL.
Tickets
SOLD OUT

Carnivero

Also Sponsored By:

AgriStarts


Rare Plant Fairy
Show & Sale Details
---
This Year's Vendors
Due to the high demand we no longer have any additional vendor spaces available this year. If you're a member of the IAS please see details below on our Member Sales Table. For information on becoming a vendor or selling at the members table, please refer to the policy here.
The Garden House is CLOSED to the public on Friday and no public activities are scheduled. Only Vendors, Show Entrants, and IAS volunteer staff will be admitted to the Garden House on Friday. Note that NO PLANT SALES will be allowed on Friday.
---
Aroid Awards
Awards this year will be given to:

Overall
The John Banta Best In Show Award + $250 cash award
The Lynn Hannon Most Unusual Award + $100 cash award
The Georgia Tasker People's Choice Award
First Class by Category
Philodendron
Monstera
Anthurium
Other
If you would like to enter your aroid into the show, please fill out this form no later than September 1st. For information on show entries, please refer to the policy here.
Thank you so much to our awards sponsor, Mary Sizemore.
---
Member Sales Table
If you are a member of the IAS and would like to offer plants for sale at the event please fill out this form no later than September 1st. For information on selling at the members table, please refer to the policy here.
---
Show Speakers
Speaking engagements will take place Saturday, September 16th in Corbin Education Building Room A.
Dinner, Drinks, & Auction Details
---
Join us for the 46th Annual International Aroid Society Dinner, Drinks, & Auction on Saturday, September 16th, 2023 (7pm) @ Salt Waterfront Restaurant.
This year our guest speaker will be Summer Rayne Oakes, an environmental scientist and entomologist who's love for aroids and all-things-plants can be seen in her latest book How to Make a Plant Love You: Cultivate Green Space in Your Home and Heart, blog homesteadbrooklyn.com, YouTube channel Plant One on Me, podcast Bad Seeds, and online class Houseplant Masterclass.
Dinner Tickets
Tickets are now SOLD OUT.
The first 100 tickets sold will receive a signed copy of Welcome to the Jungle: Rare Tropical Houseplants to Collect, Grow, and Love by Enid Offolter of NSE Tropicals.
Schedule of Events
---
| Friday - Closed to the public | | |
| --- | --- | --- |
| 9AM - 4PM | Show Setup | |
| 1PM - 2PM | Member Sales Drop-off | |
| 2PM - 3PM | Show Entries / Aroid Awards Drop-off | |
| 3PM - 4PM | Auction Donation Plant Drop-off | |
| | | |
| Saturday - Opening Day | | |
| 10AM | Show Opening | |
| 1PM | Speaker - Joep Moonen - Corbin A | |
| 3PM | Speaker - Daryl Venables - Corbin A | |
| 3:30PM | Silent Auctions Close | |
| 4PM | Silent Auction Winners Announced | |
| 5PM | Garden Closes | |
| 7PM - 10:30PM | Dinner, Drinks, & Auction - Salt Waterfront Restaurant | |
| | | |
| Sunday - Final Day | | |
| 10AM | Show Opening | |
| 3PM | Show Closing | |
---
We currently have a few select sponsorship opportunities available for businesses that are interested in marketing opportunities in order to support the IAS Show & Sale success. You can view our Sponsorship Guide below.
Please note, all Platinum, Gold, and Silver packages are filled. Deadline to sign up for sponsorship is Tuesday, August 1st. Please contact Bill Rotolante and Allison Miller for more information.
Volunteer
---
Interested in volunteering? Fill out our volunteer application no later than August 20th to be considered. Details and requirements are listed in the form.
Benefits:
Early access to the Show & Sale
Free T-shirt
Free entry to the garden (during your volunteering time slot)
IAS Show & Sale Committee
---
Past Events
---