IAS on Facebook
IAS on Instagram
IAS Aroid Quasi Forum
---
About Aroid-L
This is a continuously updated archive of the Aroid-L mailing list in a forum format - not an actual Forum. If you want to post, you will still need to register for the Aroid-L mailing list and send your postings by e-mail for moderation in the normal way.

Re: [Aroid-l] The Genera of Araceae

From: "Betsy Feuerstein" <ecuador10 at comcast.net> on 2009.11.01 at 17:43:36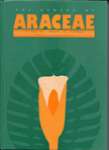 I suspect that David is looking for the book, 'The Generaof Aracea' by S.J. Mayo, J. Bogner, P.C. Boyce, not the one referencedbelow. First published 1997, ISBN 1 900347 22 9, Printed in Belgium byContinental Printing.
Aroid books: The Genera of Araceae by S. J.Mayo, J. Bogner and P. C. BoyceKew: Royal Botanic Gardens, 1997
<![if !vml]>
<![endif]>This book is the first completetaxonomic treatment in English of the Araceae, a large plant family of 105genera and over 3,300 species. The aroids are very diverse in the humid tropicsand include many of the world's most popular ornamental plants. Every genus isdescribed and illustrated with one or more plates of original line drawings bythe renowned botanical artist Eleanor Catherine, as well as range maps and 94colour photos. There are general chapters on many topics, including economicbotany, phylogenetic relationships, fossils, cultivation and detailed reviewsof anatomy (by J. C. French) and chemistry (by R. Hegnauer). xii + 370pp. 296 x213mm. Hard cover ISBN 1 900347 22 9. The Genera of Araceae is currentlyout of print, though a new edition is being contemplated.
Thiscame off of the IAS web site. Do not know if it is available through IAS
From:aroid-l-bounces@gizmoworks.com [mailto:aroid-l-bounces@gizmoworks.com] OnBehalf Of Sherry Gates
Sent: Thursday, October 29, 2009 10:11 AM
To: Discussion of aroids
Subject: Re: [Aroid-l] The Genera of Araceae
I went looking and found this online. Here are acouple of places that have it for sale. Hope this helps.
----- Original Message -----

Sent: Tuesday, October 27, 2009 5:04 PM

Subject: [Aroid-l] The Genera of Araceae

I know someone who is looking for a copy of the book "TheGenera of Araceae". He told me that the book seems to be out of print.

Does someone know where I could still find a copy ?


_______________________________________________
Aroid-L mailing list
Aroid-L@www.gizmoworks.com
http://www.gizmoworks.com/mailman/listinfo/aroid-l
------=_NextPart_001_0089_01CA5AE8.8CAC6020--------=_NextPart_000_0088_01CA5AE8.8CAC6020

Note: this is a very old post, so no reply function is available.