From: santoury at aol.com on 2010.11.05 at 17:18:15(21639)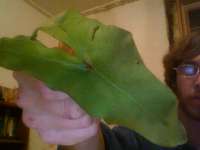 Hi guys
Remember that picture of a grayish-blue Syngonium/Caladium like plant?

Well, I have one. What is it? In real life, it is very ghostly bluish gray - green, not green like in the pic. The red center is there, not just a mark on the photo.

See pictures here!
HTML