From: santoury at aol.com on 2010.11.05 at 17:21:03(21640)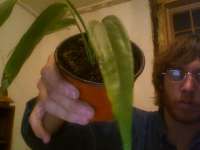 I got a bunch of Anthurium species from SIlver Krome Gardens in Florida, but they do not tag their plants. Tsk Tsk.

I was able to visually identify all my plants, except for TWO Anthuriums, which are very similar.

I know which two they could be, but do not want to cloud your judgment one way or another.

Here is the first one.
HTML