From: pugturd at alltel.net (Brian Williams) on 2007.08.20 at 22:28:44(16128)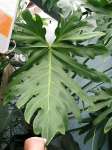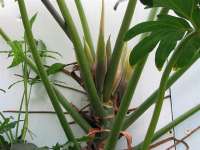 I have two philos that I have grown for a few years now. Both were
collected I have no real data with either plant. This first one came
from a old collector in south Florida that I have sense lost contact
with. He had collected in both Panama and Costa Rica. I am guessing this
is were he collected this from.

The leaves are around 3 feet long and 2 feet wide. The flowers are
around the size of my hand and are come out in large butches. This is a
huge plant and much different than the other forms I am growing. The
main stem is around 4 to 5 inches thick.

I will add the other plants photos in another e-mail.